What to bring with you:
1. Your Driver's License / ID
2. Your health insurance card(s)
3. Any forms downloaded from our website. Staff will instruct you as to what is needed. Please be sure that they are completed prior to your appointment.
4. Any MRI, X-ray reports / CD(s) you may have.
5. Medical reports from other doctors that may have treated you for your condition and/or most recent physical exam and labs performed by your primary care doctor. We may be able to request the records if you are unable to obtain on your own through a patient portal.
When You First Arrive:
Staff will have you sign any remaining office paperwork and forms your insurance company may require.
Staff will review your paperwork, scan your Driver's License, insurance card, and the records you may have brought with you and organize them for the doctor's review.
This process takes time, please remember to come in 10 minutes early so that they may complete this process, so as not to take time from your scheduled doctor's visit.
What to Wear on Your First Visit:
We do have patient gowns and shorts here in the office, but we prefer that you bring your own loose fitting clothes, such as a pair of shorts, Yoga pants, T-shirt or tank top. This will allow the doctor to perform the examination unencumbered by restrictive clothing.
---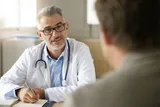 Consultation:
Next, the doctor will review your medical history and records with you. He will ask questions about how you feel and your particular situation. The consultation is meant for the doctor to learn about your health and your unique circumstances, whether it be about acute back pain, recurrent sports injuries, or other health problems.

---
Examination:

Your examination will include some familiar tests, like checking your reflexes, taking blood pressure, looking at posture and how you bend and move. More in depth orthopedic joint assessment, strength tests, and thorough hands-on palpation of problem areas will be performed.

---

X-Ray / MRI Studies:
Depending on your specific condition the doctor may order an X-ray or MRI. X-rays and MRIs can help the doctor develop the most effective treatment plan for you, and alert us of any conditional that may require a referral to another specialist or to your primary care physician. Most people do not require X-rays or MRIs and start treatment without theses studies.
---

Exam Findings and Treatment Plan:
Once the exam is complete the doctor will review his findings with you, discuss treatment and if needed order an X-ray or MRI, or refer you to additional specialists.
If your safe and indicated for treatment and most people are, then a program of care will be recommended. Most patients with common spine pain conditions find notable relief within about six treatment sessions at twice to three times per week treatment. Those with more severe injuries, such as vehicle-crash injuries or sports injuries, as well as chronic pain cases, often require longer or more intensive care.
---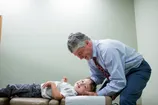 Treatment:
Most people benefit from treatment, and the doctor will explain what types of procedures will be utilized to help you resolve or manage your particular condition. Dr. Gillman has extensive experience, and offers a variety of soft tissue therapies, including simple massage and stretching procedures, deep tissue release, and advanced hybrid methods combining instrument assisted soft tissue therapy with rehabilitative exercise such as FAKTR™. Spine decompression, done by hand, literally pulls apart your spine in a focal, controlled manner, and can be a gamechanger for disc bulges and arthritic spines. Of course, spine and extremity joint adjustments are the foundation of care, and you will be in the hands of a master with years of experience. We also offer other therapeutic tools, including therapeutic ultrasound, high powered cold laser therapy and shockwave therapy. Most patients will be shown exercises, from simple back exercises to advanced rehab exercises for the injured athlete.
---

Wellness:
Once you have met your treatment goals, whether your original condition has resolved completely or your symptoms have decreased, you may find periodic chiropractic care beneficial to your wellbeing. Every person is unique, therefore everyone requires a customized treatment program. The purpose is for you to feel good and maintain an active life style.